Peri-implantitis Treatment
Peri-implantitis Treatment in Columbia, MD
Expert Treatment for Dental Implant Complications Near Baltimore, MD
Dr. Moskowitz doesn't just provide his patients with dental implants, he also helps them keep them for life.

He treats issues people may have with implants, including peri-implantitis, the leading cause of implant failure.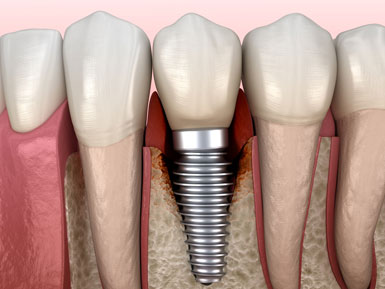 Redness and swelling around a dental implant may be signs of peri-implantitis.
What Is Peri-implantitis?
Peri-implantitis is a progressive inflammation of the gum and bone tissue surrounding an implant. It is caused by bacteria that is allowed to congregate on the implant surface under the gumline. Early warning signs are red, swollen gums and bleeding when gums are probed. If left untreated, peri-implantitis can lead to bleeding, bone loss and the eventual failure of an implant. 
Experienced Implant Care Specialist in Ellicott City, MD
Dr. Moskowitz is highly skilled and experienced in diagnosing and treating dental implant complications. Using high-tech diagnostic tools, he can determine the treatment that will be most effective to restore the implant to a stable and healthy condition. 
Key Focus to Reduce the Risk of Peri-implantitis
The frequency of peri-implantitis can be greatly reduced, and this is an area of focus in our office. Some of the ways we help our patients prevent peri-implantitis include the following:
All of our implant patients have a periodontal exam prior to the placement of dental implants to rule out the presence of periodontal disease.
We recommend that screw-retained implants be used whenever possible, as opposed to cement-retained. This helps to avoid infection caused by subgingival cement.
We recommend using implant brands supported by proven engineering. These usually provide a better fit and less likelihood of leakage and infection.
We do not use "generic" implant parts.
We provide and encourage periodic exams for patients with implants. 
What Causes Peri-implantitis?
The first step in treating a post-implant complication is to determine the underlying cause and severity of the issue. Peri-implantitis is usually caused by a complex series of elements that may include one or more of the following:
Improper placement of the implant post or restoration
Inadequate crown fit or design
Dental cement getting under the gumline
Bone failing to integrate with the implant or the implant becoming infected
Poor oral hygiene
All of these aspects must be explored for an accurate diagnosis and to ensure the best course of action. 
Examination for Symptoms of Peri-implantitis in Columbia, MD
Dr. Moskowitz will do a thorough oral examination to check for changes in gum color, thinning of gum tissues and signs of infection. He will gently probe the pockets between the gums and implants to check their depth, and he will obtain X-rays that will show if there is any loss of bone around the implant.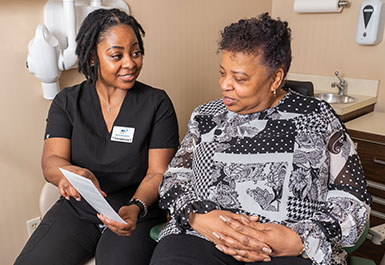 How Our Columbia, MD Peridontist Treat Peri-implantitis?
Establishing a properly aligned bite is vital to successful peri-implantitis treatment. Dr. Moskowitz will look at the forces that are impacting your teeth—which could include tongue thrusting and/or a misaligned bite. If there is an issue with how your teeth come together for biting, he will correct it so your bite is properly balanced.
We will clean your implant to eradicate the bacteria. For a mild case, we will do this with a deep cleaning; for a chronic infection, Dr. Moskowitz will use our sophisticated dental laser. The laser is gentle and treatment with it is comfortable for the patient. Diseased tissues are targeted and removed without disrupting healthy tissue.
We will also work with you on your home oral care and recommend special equipment to help you keep your mouth clean so the infection does not come back. We will also recommend an increase in dental visits to our office and with your regular dentist to help keep an eye on the situation.
Call 410-744-6088 or click here to schedule an appointment. 
Meet Your Award Winning Dentist
The Proof is in Our Patients

I am very happy with the care I receive here. The staff members are patient and understanding. They explain the procedures clearly and are very supportive during the treatments. It's a very good periodontal practice.
From 1st visit in and numerous visits thereafter, the.entire staff from was wonderful. Knowledgeable, personable and very helpful. Dr. Moskiwitz was extremely thorough and patient in answering my multitude of questions. Looking forward to continued superb care here.
Dr. Moskowitz and his staff are amazing!! They are super nice and welcoming. Seems really passionate about periodontal health and getting you straight! Great first visit!!
MOST INSURANCES WELCOME AND MAXIMIZED!
Contact us and schedule your visit today. 
Periodontal Care Is More Affordable Than You May Think
Many patients hesitate to proceed with periodontal treatment because they fear they will not be able to afford it. Postponing treatment can be more costly, and early treatment is absolutely necessary if you are predisposed to developing gum disease.
If you have finance concerns, let our team help you make payment arrangements with an extended payment plan. You can also reduce the cost of your treatment by 5% when you pay in full at the time of service.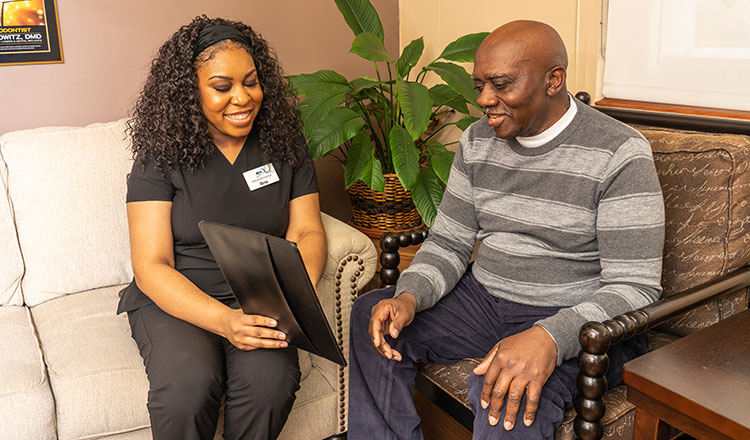 OUR LOCATION Baltimore Periodontics
| | |
| --- | --- |
| Monday | 8:30 AM – 5:00 PM |
| Tuesday | 8:30 AM – 5:00 PM |
| Wednesday | 8:30 AM – 5:00 PM |
| Thursday | 8:30 AM – 5:00 PM |
| Friday | 8:30 AM – 3:00 PM |
| Saturday | Closed |
| Sunday | Closed |
Skilled, Knowledgeable & Caring Periodontal & Implant Services
Open Daily For Your Convenience!
A State-of-the-Art Dental Facility to Best Serve Our Patients in Columbia, MD.