Board Certified Periodontist In Columbia, MD
Dr. Ari Moskowitz is a talented and caring dental specialist who has been helping patients improve and restore their oral health since 2001. His goal is to provide outstanding care in the most kind, patient and compassionate way possible.
Dr. Moskowitz is dedicated to using the most advanced technology and techniques to provide his patients with the least invasive and most effective periodontal treatments. In 2004, he became one of the first periodontists in Maryland to use the Waterlase laser for managing gum disease. He has used the PerioLase® laser for minimally invasive gum rejuvenation procedures since 2010. He is one of only 600 or so dentists to be trained to use the minimally invasive Chao Pinhole® Surgical Technique for repairing gum recession. 
Dr. Moskowitz received his Doctorate of Medical Dentistry (DMD) from Tufts University School of Dental Medicine in 1998. Immediately after dental school, Dr. Moskowitz attended the prestigious University of Maryland-Baltimore College of Dental Surgery Periodontology Program for residency training, where he received a certificate as a specialist in the field of periodontics and Dental Implants. After completing his residency training, Dr. Moskowitz opened Baltimore Periodontics Lasers & Dental Implants located in Columbia, Maryland. 
Board-Certified Periodontist
Following a rigorous review and examination by experts in the field of periodontology, Dr. Moskowitz joined a small percentage of elite periodontists who are board-certified. He is also a member of many prestigious dental organizations, including the American Academy of Periodontology, the Academy of Osseointegration and the American Academy of Dental Sleep Medicine. 
Top Dental Treatment In Baltimore County
Dr. Moskowitz is a firm believer in continuing education, and he embraces learning new and advanced periodontal techniques to provide the best possible outcome and care for his patients. He founded and coordinated the Team Approach to Dentistry Study Club to enhance communication and understanding of approaches for treating patients between dentists and dental specialists. He has also been a speaker at numerous dental study clubs on the subject of gum grafting, dental implants, LANAP® and bone regeneration techniques.
Dr. Moskowitz's outstanding communication and coordination of patient care with referring general dentists, along with his compassion for people and love of periodontics, medicine and technology that improves people's lives, puts him in a league of his own. He cares for each of his patients as he would want to be cared for. He approaches each patient by listening carefully to their needs and concerns and then formulates the least invasive, most effective and efficient approach to address the patient's concerns while achieving optimal oral health and function. 
Award-Winning Periodontist
Since 2010, Dr. Moskowitz has continuously been recognized as a top dentist by Baltimore Magazine and continues to be the first choice for many patients and referring dentists in Columbia and the surrounding areas. 
Dr. Moskowitz enjoys spending time with his wife and five children. He loves the outdoors, playing racquetball, reading and attending continuing education to ensure that he keeps up with the latest techniques and technology. 
Schedule a Consultation With Dr. Ari Moskowitz
To learn more about the dental services Dr. Ari Moskowitz offers, please call 410-744-6088 to schedule a consultation at his practice in Columbia, MD.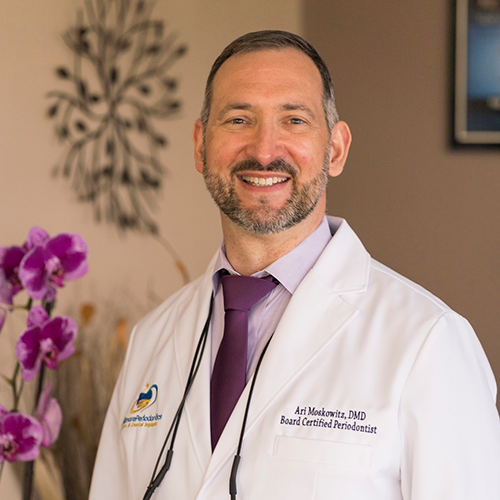 The Proof is in Our Patients

I am very happy with the care I receive here. The staff members are patient and understanding. They explain the procedures clearly and are very supportive during the treatments. It's a very good periodontal practice.
From 1st visit in and numerous visits thereafter, the.entire staff from was wonderful. Knowledgeable, personable and very helpful. Dr. Moskiwitz was extremely thorough and patient in answering my multitude of questions. Looking forward to continued superb care here.
Dr. Moskowitz and his staff are amazing!! They are super nice and welcoming. Seems really passionate about periodontal health and getting you straight! Great first visit!!
Skilled, Knowledgeable & Caring Periodontal & Implant Services
Open Daily For Your Convenience!
A State-of-the-Art Dental Facility to Best Serve Our Patients in Columbia, MD.
OUR LOCATION Baltimore Periodontics
| | |
| --- | --- |
| Monday | 8:30 AM – 5:00 PM |
| Tuesday | 8:30 AM – 5:00 PM |
| Wednesday | 8:30 AM – 5:00 PM |
| Thursday | 8:30 AM – 5:00 PM |
| Friday | 8:30 AM – 3:00 PM |
| Saturday | Closed |
| Sunday | Closed |