Treatment for Gum Disease in Columbia & Elkridge, MD
Saving Teeth With Minimally Invasive Laser Gum Disease Treatment in Columbia, MD
Dr. Moskowitz is a highly trained and experienced gum disease specialist with expertise in handling all stages of the disease. After a thorough examination and evaluation, he will devise and implement a fully customized treatment plan to return your teeth and gums to a healthy state.
When needed, Dr. Moskowitz can even use gum and bone grafting techniques to rebuild tissue that has been lost to the disease, providing a stable foundation for teeth to remain healthy and firmly in place.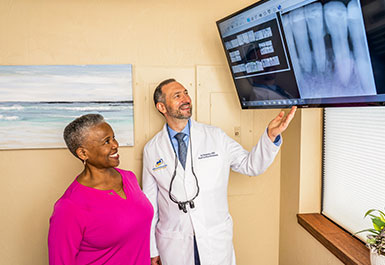 Gum disease (also known as periodontal disease) is the most common cause of tooth loss in adults. It is a bacterial infection and inflammation of the gums that, left untreated, progressively destroys the gums and bone that support the teeth. This can cause teeth to loosen and eventually fall out. Fortunately, Dr. Moskowitz is an expert at saving teeth using effective, minimally invasive and state-of-the-art gum disease treatment.  
The Expertise of a Board-Certified Periodontist Near Elkridge, MD
Dr. Moskowitz is passionate about helping his patients keep their natural teeth for life. As a board-certified periodontist, he is an expert in the diagnosis and treatment of all stages of periodontal disease and in repairing the damage it causes. He provides meticulous, thorough and comprehensive gum disease treatment, including high-tech laser therapy with LANAP®. 
Minimally Invasive Laser Therapy For Gum Disease in Columbia, MD
Dr. Moskowitz can often treat persistent gum disease without the need for scalpel surgery using the revolutionary Laser-Assisted New Attachment Procedure (LANAP). He strives to be as conservative as possible in his treatments and believes that LANAP is the least invasive way to get gum disease under control.
LANAP is safe, gentle and effective. The FDA-approved procedure uses a high-tech dental laser instead of a scalpel to gently remove diseased gum tissue. The laser selectively targets diseased tissue and leaves healthy tissue unaffected. It also stimulates the body's natural regenerative potential to help accelerate healing and aid in the restoration of lost or damaged gum and bone tissue.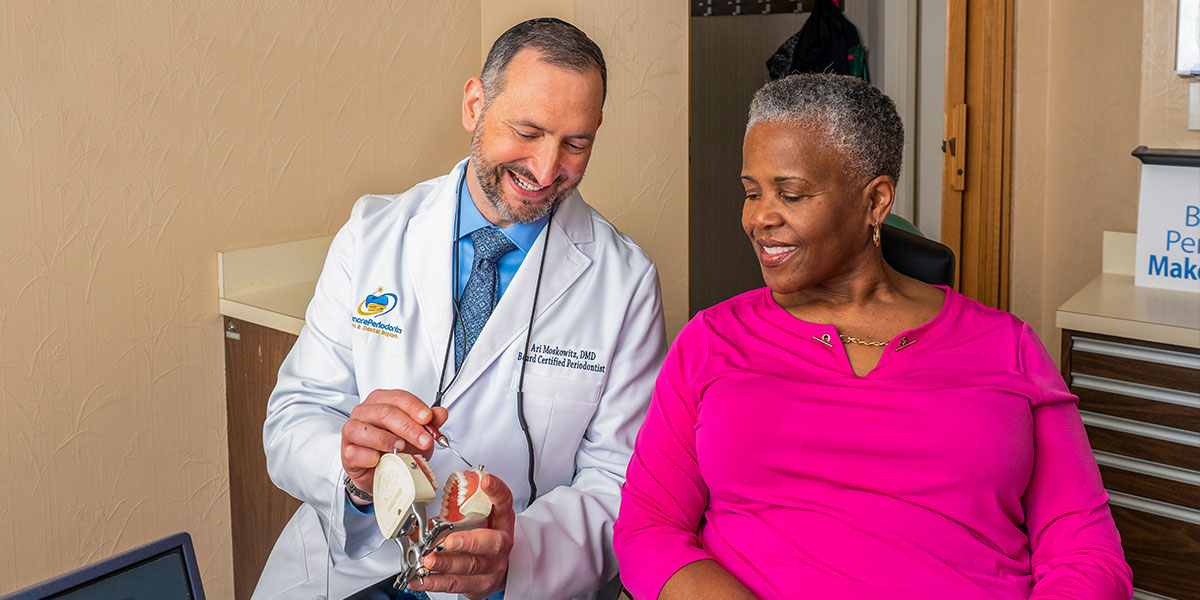 Comfortable Gum Disease Treatment in Columbia, MD
With LANAP, patients experience far less discomfort than with traditional gum surgery both during and after their treatment. There is little to no swelling or bleeding, and healing is fast and uneventful. Sutures are typically not needed with LANAP, so patients don't have to come back for removal of stitches.  
Why Should You See a Periodontist for Gum Disease Treatment?
Anyone can receive significant benefits from seeing Dr. Moskowitz for gum disease treatment, but there are some types of patients for whom his specialist care can be crucial to properly controlling and treating their gum disease. These patients include:
Smokers
People with diabetes, heart disease or rheumatoid arthritis
Those with a family history of dementia or Alzheimer's.
These gum disease cases can be very complicated and require an expert periodontist like Dr. Moskowitz to effectively treat.
In addition, people who are experiencing swelling in their gums, discomfort when chewing, bad breath or bleeding gums when brushing or eating should make an appointment to see Dr. Moskowitz as soon as possible.  
The Relationship Between Gum Disease and Overall Health
Research has shown that untreated gum disease can increase the risk of health complications throughout a person's body, including heart disease, low birth weight babies and certain types of cancer. Study results suggest that the transfer of gum-disease-causing bacteria to other parts of the body through the bloodstream plays an important role in these risks.
Dr. Moskowitz helps his patients lower these risks by effectively treating their gum disease, as well as informing and empowering them to take better care of themselves. A variety of factors may be contributing to a person's gum disease, including the patient's nutrition, if they smoke and if they are suffering from sleep apnea. Many things play a role in aiding the flourishing of gum disease, just as gum disease plays a role in aiding a host of negative health conditions throughout the body. 
Patients are often unaware they have gum disease because it may not cause pain until it has progressed to an advanced stage. Symptoms include:
Bleeding while brushing, flossing or eating hard food
Red, swollen or tender gums
Pain or sores in the mouth
Gums that are receding or have pulled away from the teeth
Loose teeth
Persistent bad breath or bad taste in the mouth
Pus between gums and teeth
Any change in the way teeth fit together when biting
If you are experiencing any of the above, or if you are a smoker (smoking can hide the above symptoms), call to schedule a periodontal exam with Dr. Moskowitz.

Call 410-744-6088 or click here to schedule an appointment. 
Meet Your Award Winning Dentist
The Proof is in Our Patients

I am very happy with the care I receive here. The staff members are patient and understanding. They explain the procedures clearly and are very supportive during the treatments. It's a very good periodontal practice.
From 1st visit in and numerous visits thereafter, the.entire staff from was wonderful. Knowledgeable, personable and very helpful. Dr. Moskiwitz was extremely thorough and patient in answering my multitude of questions. Looking forward to continued superb care here.
Dr. Moskowitz and his staff are amazing!! They are super nice and welcoming. Seems really passionate about periodontal health and getting you straight! Great first visit!!
MOST INSURANCES WELCOME AND MAXIMIZED!
Contact us and schedule your visit today. 
Periodontal Care Is More Affordable Than You May Think
Many patients hesitate to proceed with periodontal treatment because they fear they will not be able to afford it. Postponing treatment can be more costly, and early treatment is absolutely necessary if you are predisposed to developing gum disease.
If you have finance concerns, let our team help you make payment arrangements with an extended payment plan. You can also reduce the cost of your treatment by 5% when you pay in full at the time of service.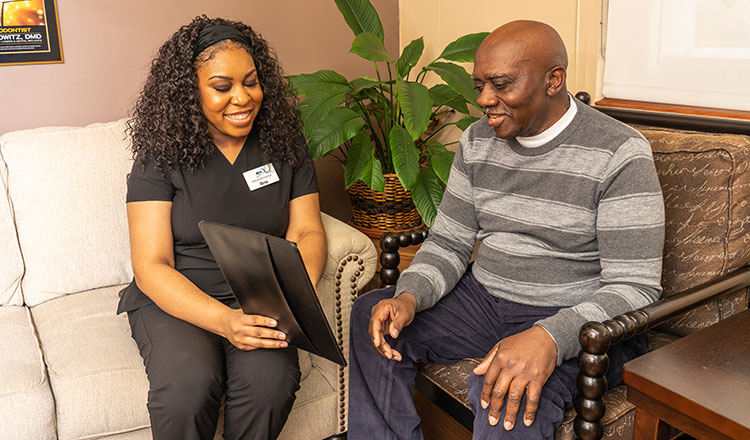 OUR LOCATION Baltimore Periodontics
| | |
| --- | --- |
| Monday | 8:30 AM – 5:00 PM |
| Tuesday | 8:30 AM – 5:00 PM |
| Wednesday | 8:30 AM – 5:00 PM |
| Thursday | 8:30 AM – 5:00 PM |
| Friday | 8:30 AM – 3:00 PM |
| Saturday | Closed |
| Sunday | Closed |
Skilled, Knowledgeable & Caring Periodontal & Implant Services
Open Daily For Your Convenience!
A State-of-the-Art Dental Facility to Best Serve Our Patients in Columbia, MD.