New Teeth in One Day in Columbia, MD
Get Extractions, Implants and New Teeth in the Same Day near Elkridge, MD!
New Teeth in One Day allows people who have a mouthful of missing teeth or whose teeth are broken-down and beyond repair to smile and eat with confidence again.

This revolutionary procedure enables patients to get fixed-in, full-arch implant-supported teeth in a single-day procedure. After the initial diagnostic and planning appointments, Dr. Moskowitz is able to extract any remaining teeth, place the implants and attach temporary teeth—all in one visit. Patients come in with their teeth in bad shape and leave the same day with a beautiful new smile.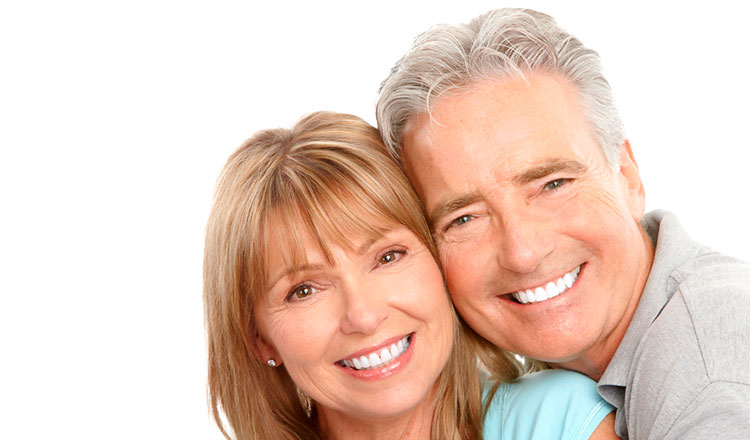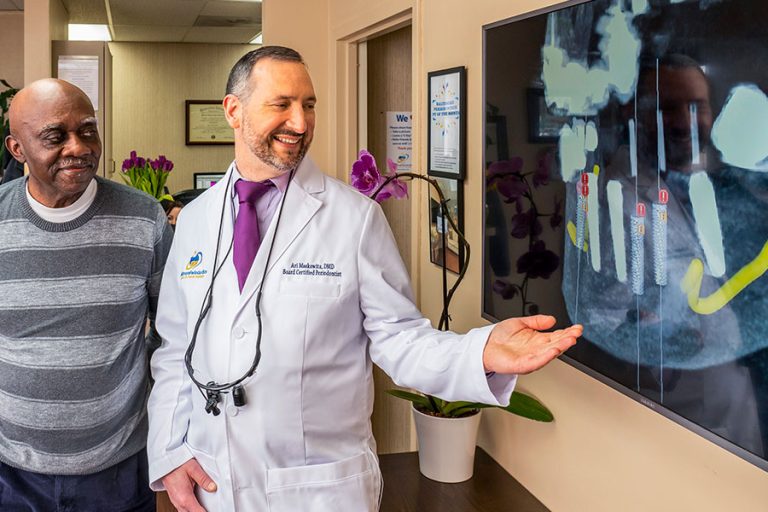 3D X-rays are used to identify the best areas of dense bone in which to place the implants.
State of the Art Periodontic Technology near Baltimore, MD
Key to Dr. Moskowitz's successful New Teeth in One Day treatment is his use of cutting-edge 3D imaging and implant-planning technology. Using his cone beam CT scanner and special implant-planning software, Dr. Moskowitz obtains detailed 3D data of your entire mouth and jaw area and is able to essentially perform the whole implant placement procedure in the computer before you sit down in the dental chair. He then can perform your procedure knowing exactly what will happen step-by-step and the expected outcome, so there will be no surprises.  
$79 New Patient Exam & Consultation
*Offer valid only for patients without insurance or who are with out-of-network providers. If X-rays or CT scans are needed, additional costs will be necessary, but will be applied to treatment costs if done within three months.
Durable, Highly Aesthetic and Fully Functional Permanent New Teeth in Columbia, MD
Once the implants have fully integrated with the patient's jawbone—in a few months' time—the temporary teeth are replaced with strong and durable final teeth.
Dr. Moskowitz works with skilled restorative dentists who create the final teeth from lifelike, long-lasting materials. These full arches of new teeth are strong, durable and feel and function like natural teeth. Because they are permanently attached to dental implants, the final teeth restore near-natural chewing power, enabling you to once again eat the foods you love and that can provide proper nutrition.  
Dr. Moskowitz and our staff work hard to ensure you are comfortable throughout your treatment. Dr. Moskowitz will fully explain the New Teeth in One Day procedure and patiently answer any questions you may have.
We offer sedation options, including nitrous oxide and oral sedation to help you feel at ease. Even patients who are anxious or have a dental phobia are able to remain relaxed and comfortable throughout their treatment with sedation. Dr. Moskowitz also uses biostimulation for healing and comfort, and a prescription-strength topical numbing gel that takes away the sting associated with injections.
Call 410-744-6088 or click here to schedule an appointment.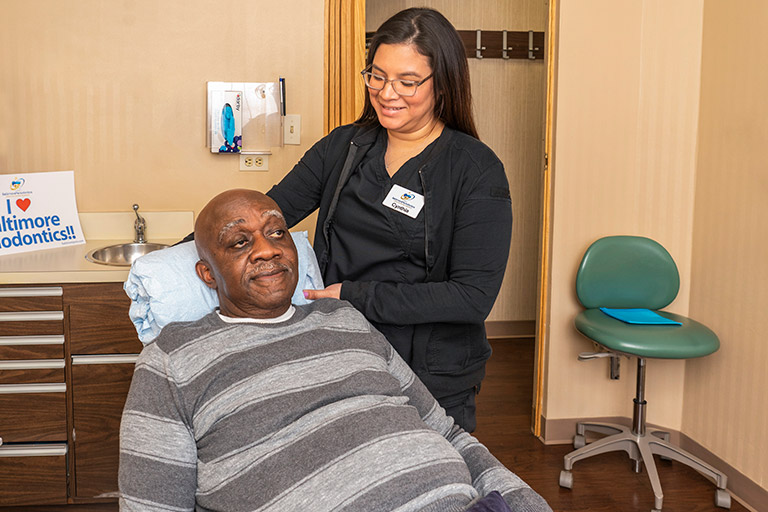 Meet Your Award Winning Dentist
The Proof is in Our Patients

I am very happy with the care I receive here. The staff members are patient and understanding. They explain the procedures clearly and are very supportive during the treatments. It's a very good periodontal practice.
From 1st visit in and numerous visits thereafter, the.entire staff from was wonderful. Knowledgeable, personable and very helpful. Dr. Moskiwitz was extremely thorough and patient in answering my multitude of questions. Looking forward to continued superb care here.
Dr. Moskowitz and his staff are amazing!! They are super nice and welcoming. Seems really passionate about periodontal health and getting you straight! Great first visit!!
MOST INSURANCES WELCOME AND MAXIMIZED!
Contact us and schedule your visit today. 
Periodontal Care Is More Affordable Than You May Think
Many patients hesitate to proceed with periodontal treatment because they fear they will not be able to afford it. Postponing treatment can be more costly, and early treatment is absolutely necessary if you are predisposed to developing gum disease.
If you have finance concerns, let our team help you make payment arrangements with an extended payment plan. You can also reduce the cost of your treatment by 5% when you pay in full at the time of service.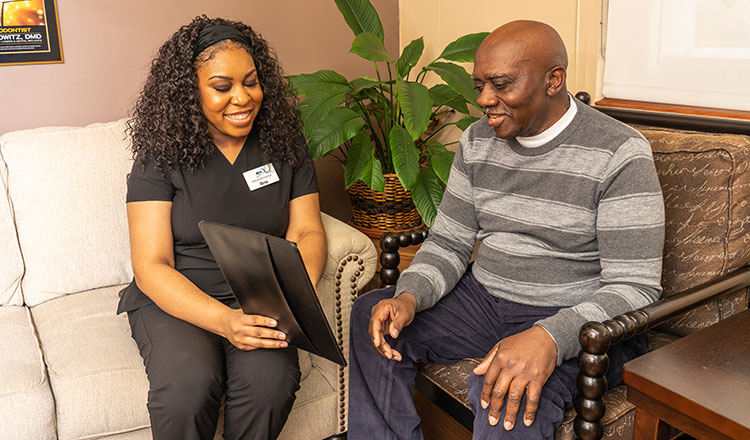 OUR LOCATION Baltimore Periodontics
| | |
| --- | --- |
| Monday | 8:30 AM – 5:00 PM |
| Tuesday | 8:30 AM – 5:00 PM |
| Wednesday | 8:30 AM – 5:00 PM |
| Thursday | 8:30 AM – 5:00 PM |
| Friday | 8:30 AM – 3:00 PM |
| Saturday | Closed |
| Sunday | Closed |
Skilled, Knowledgeable & Caring Periodontal & Implant Services
Open Daily For Your Convenience!
A State-of-the-Art Dental Facility to Best Serve Our Patients in Columbia, MD.