Implant-Supported Dentures and Bridges in Columbia, MD
Implant-Supported Dentures and Bridges in Columbia & Elkridge, MD
The Ultimate Full-Arch Teeth Replacement Option near Baltimore, MD
Don't settle for traditional dentures that become loose and only provide about 10% of natural chewing power. Get a beautiful new smile and the ability to eat whatever you want with dental implants.
People who have many missing, decayed or broken-down teeth can restore their chewing power and get a beautiful new smile with a full set of implant-supported teeth. Dr. Moskowitz offers several excellent implant-supported, full-arch teeth replacement options. After a thorough examination and consultation with the patient, he is able to determine the best solution based on their unique needs, desires and budget.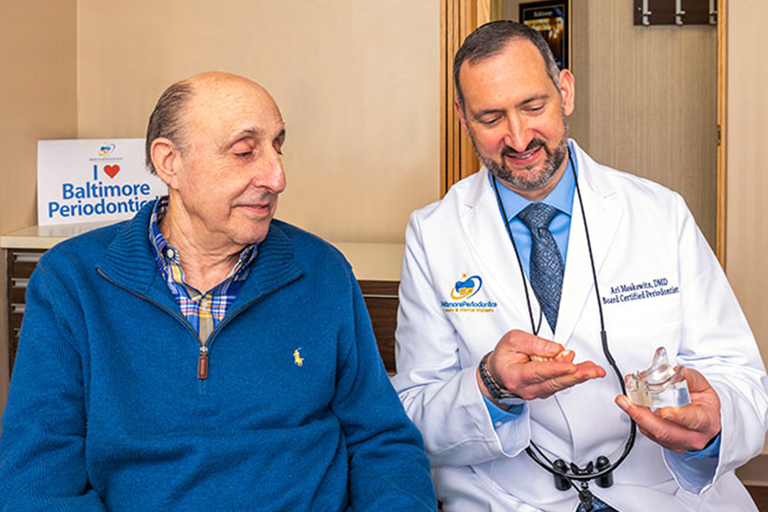 Removable "Snap-In" Dentures Specialist
For patients who are already wearing full or partial dentures and want better stability, Dr. Moskowitz often recommends snap-in dentures. This is the most economical option for full-arch implant-supported teeth replacement.
Dr. Moskowitz typically places four implants per denture for this treatment, with each implant featuring a denture connector at its end. These connectors snap onto the underside of the denture—which allows you to easily remove the denture whenever you wish, yet it remains firmly in place for eating and talking.
Snap-in dentures restore around 75% of natural chewing power, a far cry from the 10% that a traditional denture gives.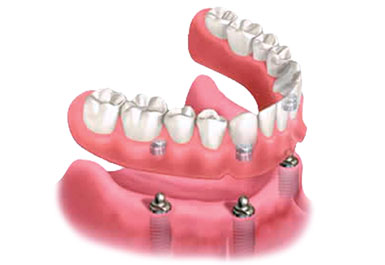 Non-Removable Implant-Supported Bridges in Columbia, MD
For the ultimate in stability and lifelike chewing power, Dr. Moskowitz provides new teeth permanently fixed to implants. This option restores near-natural chewing power. Fixed-in full arches of implant-supported teeth are the most lifelike teeth replacement available.
Call 410-744-6088 or click here to schedule an appointment.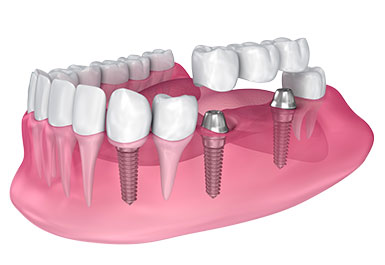 The Disadvantages of Traditional Dentures
Bone loss in the jawbone gradually causes loss of facial support. Lips become thinner, the chin and mouth move closer to the nose, and the cheeks sink in, causing deep wrinkles and folds.
Traditional dentures have long been considered the go-to option for full-arch teeth replacement, but they are far from an ideal solution for many reasons. One of the main drawbacks is the minimal chewing power traditional dentures provide. Not being able to fully chew one's food can also lead to other health problems. Food that is under-chewed sits in the digestive tract and causes irritation. The nutrients in under-chewed food cannot be absorbed well, and this can lead to colitis and problems with digestion.
Bone loss is another problem that comes with missing teeth and wearing traditional dentures. Without the stimulation from full-force chewing, bone in the jaw gradually reabsorbs back into the body, causing the lower half of the face to appear to "collapse" in on itself. Wearing dentures actually accelerates the bone loss process due to the constant friction of the denture on the bony ridge.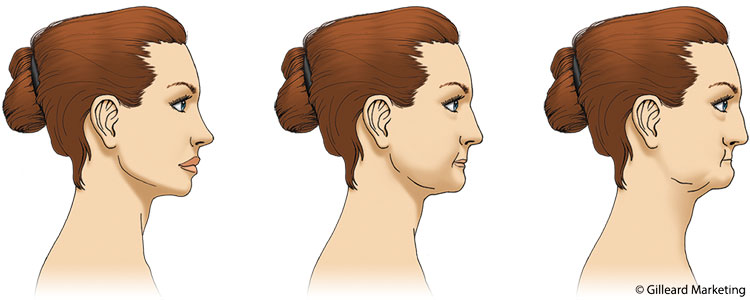 Implant-supported teeth solve these issues. Because they are firmly fixed in the jaw, implants enable strong chewing power for proper digestion and stimulate the jawbone, preventing bone loss.
Call 410-744-6088 or click here to schedule an appointment. 
Meet Your Award Winning Dentist
The Proof is in Our Patients

I am very happy with the care I receive here. The staff members are patient and understanding. They explain the procedures clearly and are very supportive during the treatments. It's a very good periodontal practice.
From 1st visit in and numerous visits thereafter, the.entire staff from was wonderful. Knowledgeable, personable and very helpful. Dr. Moskiwitz was extremely thorough and patient in answering my multitude of questions. Looking forward to continued superb care here.
Dr. Moskowitz and his staff are amazing!! They are super nice and welcoming. Seems really passionate about periodontal health and getting you straight! Great first visit!!
MOST INSURANCES WELCOME AND MAXIMIZED!
Contact us and schedule your visit today. 
Periodontal Care Is More Affordable Than You May Think
Many patients hesitate to proceed with periodontal treatment because they fear they will not be able to afford it. Postponing treatment can be more costly, and early treatment is absolutely necessary if you are predisposed to developing gum disease.
If you have finance concerns, let our team help you make payment arrangements with an extended payment plan. You can also reduce the cost of your treatment by 5% when you pay in full at the time of service.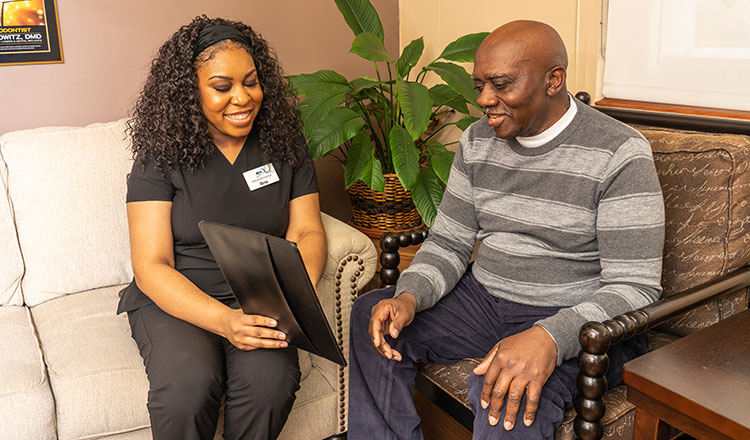 OUR LOCATION Baltimore Periodontics
| | |
| --- | --- |
| Monday | 8:30 AM – 5:00 PM |
| Tuesday | 8:30 AM – 5:00 PM |
| Wednesday | 8:30 AM – 5:00 PM |
| Thursday | 8:30 AM – 5:00 PM |
| Friday | 8:30 AM – 3:00 PM |
| Saturday | Closed |
| Sunday | Closed |
Skilled, Knowledgeable & Caring Periodontal & Implant Services
Open Daily For Your Convenience!
A State-of-the-Art Dental Facility to Best Serve Our Patients in Columbia, MD.